CREATIVE COMPANION

This is a picture of my great-grandfather, He established a cabinet making company in 1885 (one year earlier Coca Cola was founded). I was named exactly after him: Christof Johannes Zürn. As a tribute to his entrepreneurship I am using this picture in different social media as profile picture.
CREATIVE COMPANION was founded in 2010 by Christof Zürn with the purpose to blend people centered design (Design Thinking, Service Design) with organisational development and branding.
CREATIVE COMPANION is a label that can be use for a variety of activities. It's also a job role that unites activities like 'creative director', 'strategy director', 'communications manager', 'service designer' or 'design thinker' - but most of all it is an attitude in collaborating and achieving great things together.

Visiting address
Sint Annastraat 198, 6525 GX Nijmegen
Blog, Twitter and more
From time to time I am posting things that I find interesting and want to remember to my Blog or Twitter account, it is mainly about: Art, Branding, Culture, Design, Online Strategy, Service Design, Saxophones, Guitars and a lot of Design and Music Thinking.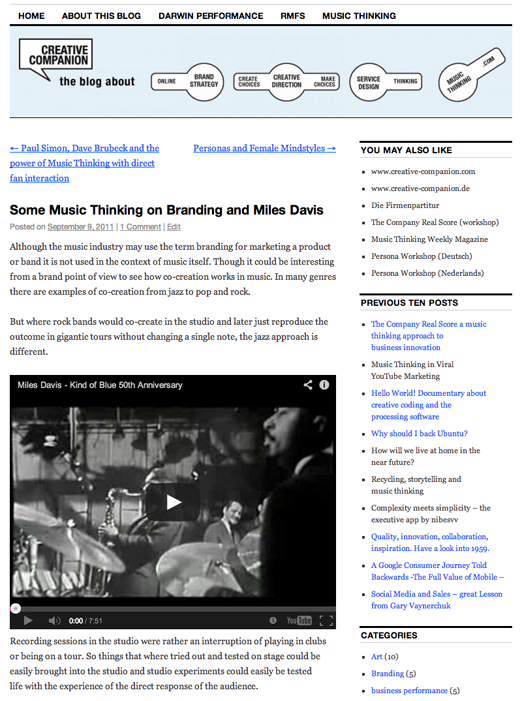 Tweets by @ChristofZuern
Music Thinking Weekly is a paper.li magazine, that collects everything posted in Twitter via the hashtag #musicthinking. If someone posts a tweet and uses the hashtag #musicthinking then the tweet will appear in the weekly issue of Music Thinking Weekly.
Short Curriculum Vitae
Christof Zürn is a trained cabinet maker and graduated from University of Karlsruhe in Musicology, History of Arts and Philosophy, followed by a one year course in Public Relations at IC Heidelberg.
He worked as Editor in Chief for Online Magazines, Project Manager New Media, Creative Consultant and Creative Director for international agencies such as Studio Dumbar Rotterdam, Clockwork Amsterdam, The Vision Web Delft, av communication Stuttgart and EuroArts Stuttgart.
As Creative Director Interactive at Studio Dumbar he was responsible for online brand strategy and creative output of all interactive productions of Studio Dumbar between March 2007 and October 2010. Christof has considerable experience in leading projects with the focus on people centred design - from persona development to quantitative and qualitative user testing.
Brand related and idea driven projects are the core of Christof's portfolio e.g. Mexx Europe, Nokia Headquarter Helsinki, Artstart, Essent, University of Twente, AG2R La Mondiale, Allsecur (direct-writer of Allianz) and Dutch government – a unique identity project covering all ministries and 175 other organisations and their entire online activities.
Christof has won the German Multimedia Award (DMMA) in gold for the CD-ROM 'Great Conductors', the Comenius Medal for the CD-ROM 'Mozart on Tour' and the Dutch Home Shopping Award for the international transactional 'website of Bakker Hillegom'.
Christof gave lectures and presentations such as: 'Brands In Russia' in Amsterdam, 'Pecha Kucha' at creative industry week in Shanghai, 'Dutch Design Days' in Riga and others.
Christof is a member of the music collective 'Raum-Musik für Saxophone'.